This page lists the ways you can support Con or Bust: spread the word; participate in the auction; donate money; shop at Amazon; donate con memberships or other non-monetary support; or buy a T-shirt. Con or Bust is a tax-exempt not-for-profit corporation that does its utmost to minimize its administrative expenses (more information).
Spread the Word
The simplest thing you can do to support Con or Bust is to tell people that it exists, that it helps fans of color/non-white fans attend SFF cons, and that it's funded solely through donations and its annual online auction. Links to the about page are terrific.
[ back ]
---
Participate in the Auction
If it's April or May, you can participate in the annual online auction by submitting something to be auctioned or by bidding.
[ back ]
---
Donate Money
Con or Bust takes donations of money through the following methods: (1) one-time online donation, via credit card or PayPal account; (2) recurring online donations via PayPal account; and (3) checks sent in the mail.
One-Time Online Donations
For one-time online donations, Con or Bust takes donations through PayPal.
If you have a PayPal account and would like 100% of your donation to go directly to Con or Bust, please use the below button (which is a link to the PayPal Giving Fund).
If you use the above button, and you are paying for an auction item or a T-shirt, you must then forward your acknowledgment email only to katenepveu@con-or-bust.org to let me know what you're paying for. (Please do not send money directly to that address!) The Giving Fund doesn't allow you to leave notes with your donation and doesn't notify us immediately that your donation has been made.
If you need to use a credit card rather than a PayPal account, you can also use PayPal to make a one-time donation; your donation will be reduced by a PayPal fee (a lower charity rate of 2.2% + $0.30).
If you're donating using the above button, please click "Add special instructions to the seller" (below the donation amount) and indicate whether this is a donation, payment for an auction item, or payment for a T-shirt. If it's payment for an auction item, also specify the seller & item.
---
Recurring Online Donations
To make a recurring online donation, please fill out the form below. Note that this requires a PayPal account and does not go through the Giving Fund (which, at present, only supports new one-time payments).
You can cancel your donation by going into your PayPal settings and, under "Payments," clicking "Manage pre-approved payments"; if PayPal hasn't changed its link structure since I posted this, this link should bring you directly there after logging in. Click on "Con or Bust, Inc." in the list of merchants and then click "Cancel" on the resulting page.
---
Donations by Mail
You can also mail a donation (but please email katenepveu@con-or-bust.org before paying for an auction item by check):
Con or Bust, Inc.
P.O. Box 9432
Niskayuna, NY 12309
[ back ]
---
Donate through Amazon Smile
If you shop at Amazon, you can have Amazon automatically donate a portion of your purchases to Con or Bust.
If you click on the above banner or go to Con or Bust's Amazon Smile page and then log in, Amazon will donate 0.5% of every eligible purchase you make to Con or Bust–as long as you start shopping at smile.amazon.com. (After you log in, it'll give you some suggestions for doing that automatically, and also remind you from the website itself if you're logged in.)
[ back ]
---
Donate Con Memberships etc.
And at any time, you can donate con memberships or other non-monetary support, either as an individual or on behalf of a con. Please email katenepveu@con-or-bust.org with the following information:
The con you are donating memberships to, or other support for;
What information you need about the recipients to register them; and
When you need that information by.
Please note that all assistance provided by Con or Bust is confidential, and therefore you should be prepared to minimize the number of people who know the identity of those receiving donated assistance.
A note on gaming cons, workshops, etc.: unfortunately, at this time Con or Bust doesn't have the resources to expand beyond SFF cons. If there's a question about whether your event falls into this category, please ask! But if you're a gaming con, our friends at I Need Diverse Games (also a 501(c)(3) not-for-profit organization) are delighted to accept donated memberships to gaming cons to distribute to POC/LGBTQIA/Disabled/other marginalized people, so please check out their assistance page for details!
[ back ]
---
Buy a T-Shirt
Finally, you can buy a T-shirt by mail. Shirts are now $15 each with US shipping included (please email me to arrange shipping elsewhere). Please be sure to note the size, color, and any mailing instructions in the "Add special instructions to the seller" field in PayPal.
Crew-neck shirts are available in red or green ("forest"), in sizes S-3XL (size information), except that I am out of XXL in red: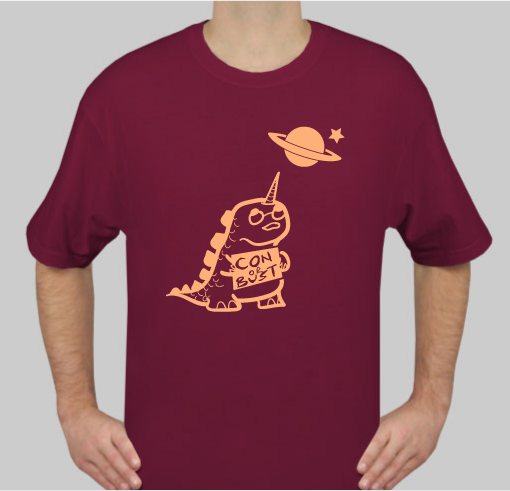 V-neck fitted T-shirts are available in purple in sizes M-2XL (size information):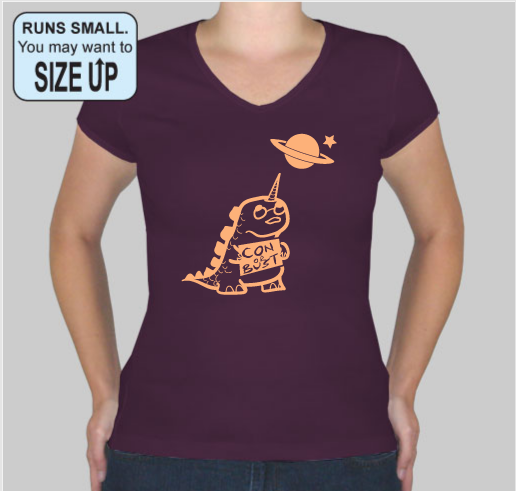 [ back ]
---
Notes on Administrative Expenses and Tax-Deductibility of Donations
Con or Bust, Inc., is tax-exempt under section 501(c)(3) of the Internal Revenue Code, which means that donations to Con or Bust are tax-deductible to the extent permitted by law. Here's the IRS determination letter; you can also search the IRS's online database for our name or our EIN, which is 81-2141738.
Con or Bust pays no compensation to its Directors or volunteers; its current by-laws and conflict of interest policy are available via the About page. Its ongoing administrative expenses are minimal and fall into three categories.
Financial. We have chosen our bank accounts to minimize the fees that will be incurred, but we cannot avoid all bank fees. Further, PayPal charges us a fee to process donations through our website (a discounted rate of 2.2% + 0.30 per transaction because we're a charity); people may also donate fee-free through PayPal's Giving Fund, as discussed above.
Web hosting and domain name registration.
Rental of a P.O. Box.
Donations to Con or Bust made before April 2016 were made via the Carl Brandon Society, another not-for-profit organization. In August 2015, as discussed in more detail in this blog post, I learned that the Carl Brandon Society's tax-exempt (501(c)(3)) status with the IRS had been automatically revoked as of August 2013. I apologize unreservedly for inadvertently misleading donors to Con or Bust. The Carl Brandon Society has filed the tax returns necessary for its re-application for tax exempt status. If its application is granted, this means that the Carl Brandon Society will be considered to have been a tax-exempt organization all along, with no break in its status. Until then, if you need advice about how to treat donations to Con or Bust specifically or the Carl Brandon Society generally during that time, please consult an appropriate professional.
Last updated January 11, 2017.